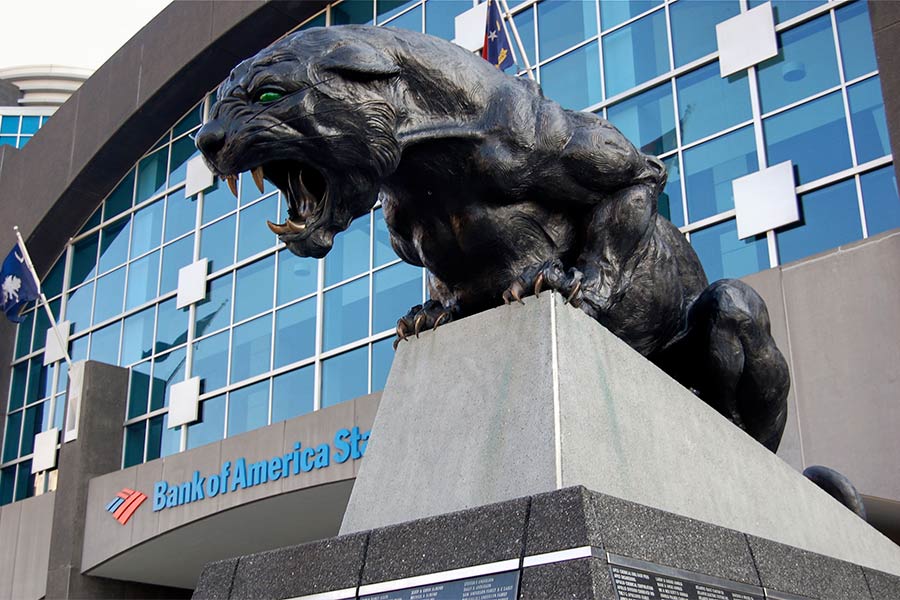 Here's a quick look at recent announcements of new dining, shopping, employment and, of course, the Panthers' $200 million headquarters and training facility.
Panthers offer more details of future Rock Hill complex
The news keeps getting better about the Carolina Panthers' ambitious plans for Rock Hill, including their team facility on more than 200 acres beside I-77, just 15 minutes from Riverchase Estates.
Along with a new team practice facility and headquarters, the Panthers recently provided fresh details about plans for a high-rise office building, hotels, shopping and entertainment facilities. Owner David Tepper certainly has the capital and vision to make this happen. Learn more here.
A separate news report in October revealed that the Panthers are buying the nearby Waterford Lakes Golf Club.
Fine-dining destinations continue to grow
Acclaimed regional restaurant operators are creating a distinctive new dining scene in Rock Hill and Fort Mill.
Jeff and Paula Conway, who opened their first Ruth's Chris Steakhouse in Charlotte in 2005, are behind the new Napa at Kingsley in Fort Mill. Napa offers dishes that reflect the unique culinary style of Napa Valley's wine country.
The highly regarded Epic Chophouse of Mooresville also has chosen Kingsley for its second location, the Charlotte Business Journal reports.
Another popular restaurant by the Conways is The Pump House, overlooking the Catawba River in Rock Hill's Riverwalk district. The Pump House features Southern-inspired American cuisine.
For an extensive roundup of the growing dining opportunities near Riverchase Estates, read this report by the Rock Hill Herald.
Business openings and new developments
New companies seeking to benefit from the Charlotte region's vibrant economy are finding good homes near Riverchase Estates.
Adornus Cabinetry, a leading manufacturer and distributor of kitchen cabinets and bathroom vanities, is creating a manufacturing and sales facility employing more than 200 persons in Lancaster County. The new operation will also house the company's North America corporate headquarters.
Don Construction Products (DCP), a U.K.-based world leader in creating and marketing advanced technology products for the construction industry, recently opened its first U.S. manufacturing operations in Lancaster County.
Charlotte Metro – one of the leading markets in the country
Charlotte is one of America's strongest real estate markets, and both York and Lancaster counties in Upstate South Carolina are witnessing dramatic growth as a result.
Among the Metro area's 12 counties, none have grown faster percentagewise since 2010 than York and Lancaster. That growth is likely to continue.
A new report by the Urban Land Institute and partner Pricewaterhouse Cooper ranks Charlotte No. 4 for best overall real-estate prospects in 2020.
In the last year, Charlotte gained national corporate headquarters for electronics manufacturer Honeywell International and the newly formed bank, Truist, which at launch will be America's sixth largest bank in assets and deposits.
Our region's burgeoning tech sector had great news, as well. Retailer Lowe's announced plans for a 2,000-employee technology center. Microsoft, which operates a large center about 35 minutes from Riverchase Estates, announced in October that it will add 430 more positions with an average annual wage of $98,000.
The Urban Land Institute report noted that businesses and consumers like the Charlotte area for its high quality of life, climate, transportation access, and relative affordability compared to other major cities in the country.
Another national report on America's Top 20 Tech Towns ranked Charlotte No. 1 for information technology workers, based on job opportunities and cost of living.