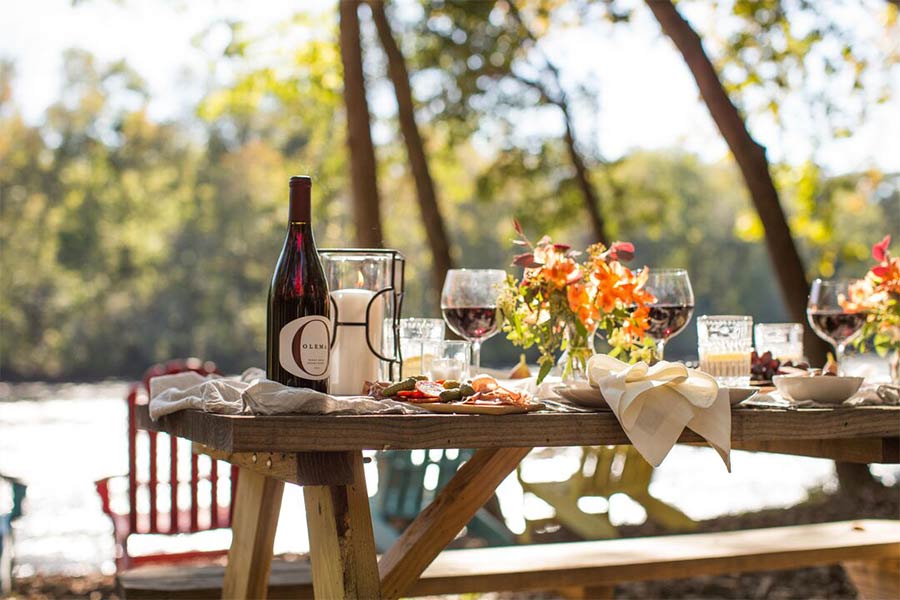 September 21, 2019—We were thrilled to host our 5th annual Wine Walk for real estate professionals here at Riverchase Estates.
During this exclusive event, realtors from all over flocked to get a unique look at our serene community. Guests toured our $4.5 million amenity center, impeccably designed model homes, and scenic streetscapes nestled along the Catawba River and the 500-acre nature preserve. In addition to these private tours, attendees enjoyed amazing door prizes, delectable hors d'oeuvres and wine tastings.
During the Wine Walk, Riverchase Estates' home and lot owners also participated in the fun, mingling and networking with local professionals, neighbors, and community staff members. One great perk of living in our pristine community is being a part of all the activities and events within our neighborhood and in the surrounding areas.
A special treat for all involved, our five preferred builders were in attendance to provide further detail about how they can provide a homebuyer or builder with their dream home. Our docket of reputable builders includes Classica Homes, Essex Homes, North Point Custom Builders, Suriano Homes and Terrata Homes!
At Riverchase Estates, we want you to love where you live. That's why we offer a buy now, build later program, and give you the option to bring your own builder. If you decide to buy a homesite but need more time to decide on a design, we have you covered. There is no time requirement to meet when it comes to breaking ground. Mull over your options with the architect of your preference, or work with one of our own five preferred builders. The choice is yours.
Land and homeownership are a fundamental desire. Part of our success comes through helping people enjoy some of America's most extraordinary and scenic properties. If you're new to the home-building scene, we're here to help make the process a little easier. Download our Land Buyer's Guide to learn the ins, outs, and best-kept secrets of purchasing a homesite.
Are you interested in attending an event at Riverchase Estates? Stay tuned to our Facebook, Instagram, website, and subscribe to our email list for information about upcoming events! For more information about Riverchase Estates, give us a call at (844) 566-4300 or request more information online.