The Riverchase Estates Story
Riverchase Estates was once a hidden jewel tucked away in Lancaster and the southern part of the Charlotte Metro. Today it is one of the leading luxury communities in the market as buyers and realtors have discovered its rare combination of wooded, acreage homesites and lifestyle amenities.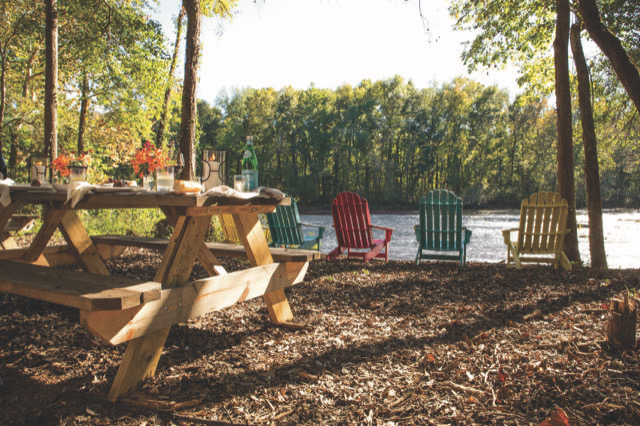 Despite a pandemic, this community bordering the Catawba River has realized record home and homesites sales each of the last three years. Lancaster County and the Rock Hill area surrounding the community have blossomed along with major businesses, and residents relocating are citing the area's quality of life, climate, beauty, opportunities, and relative affordability.
Riverchase Estates offers an unrivaled collection of amenities, including a $4.5 million amenity center complete with a clubhouse, resort-style pool, fully equipped fitness center, tennis and pickleball courts. Miles of walking trails and a 500-acre riverfront nature preserve complement the amenity complex that was completed four years ago, just in time for numerous new corporate job announcements in the Charlotte area, to bring buyers to one of the leading markets in the country as noted by the Urban Land Institute(1), Zillow(2), and Core Logic(3). Since that time, Riverchase Estates' sales, home construction and community activities have taken off.
Just up the road in Rock Hill is the Carolina Panthers' new headquarters, state of the art training facility and mixed-use development slated to include numerous entertainment venues, retailers, research, residential and hospitality. Riverchase Estates is also located close to shopping, Charlotte's nationally recognized airport, and an array of cultural and recreational attractions including numerous parks, greenways, restaurants and theaters.
Talk to real estate agents, and they will tell you that there is no other neighborhood like Riverchase Estates in the market. Buyers can buy their homesite and build on their terms when they are ready, selecting their builder or working with one that is already active in the community.
Visit Riverchase Estates, and you will be struck by its natural beauty and residents enjoying its incredible landscape and active amenities.
Note 1. Martin, J. (2021, October 14). Where Charlotte clocks in on annual list of top real estate markets to watch. Bizjournals.com.
[https://www.bizjournals.com/charlotte/news/2021/10/14/emerging-trends-in-real-estate-report-released.html]
Note 2. Rago, G. (2022, January 4) 2 NC cities are among the hottest US housing markets in 2022, new Zillow report says. Charlotteobserver.com
https://www.charlotteobserver.com/news/business/development/article257033112.html
Note 3. Martin, J. (2022, January 25) Growth in local home prices hits record level with nearly 23% increase, Case-Shiller index shows. Bizjournals.com https://www.bizjournals.com/charlotte/news/2022/01/25/local-home-prices-increase-nearly-23-in-november.html