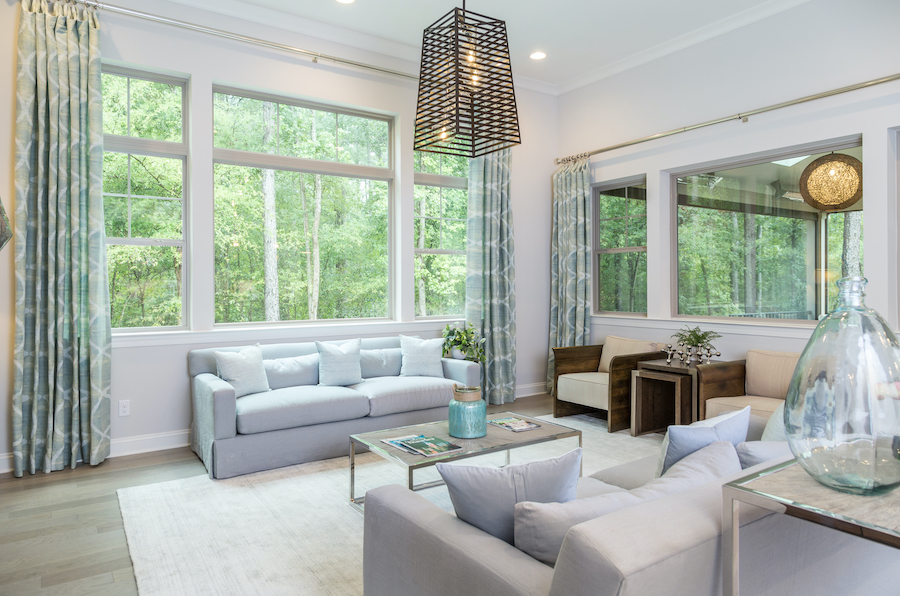 If you haven't shopped for a new home in several years, be ready for a very pleasant surprise at Riverchase Estates: Many of the technological advances that have changed our lives also have transformed the homes being offered by our community's team of preferred builders.
The latest improvements in home automation, security, comfort and efficiency fit seamlessly into the custom homes under construction at Riverchase Estates. Riverchase Estates' preferred builders offer spacious and richly detailed designs that incorporate the latest tech tools and even toys, should you desire. Imagine enjoying an autumn evening with friends in an outdoor living area equipped with heaters and retractable screens that expand your living space. Your gourmet kitchen will certainly include highly efficient appliances and an expansive island for entertaining while you cook. Care for a smart fridge with a touchscreen panel and cameras to help you track ingredients? Talk to your builder!
Many of the home designs available at Riverchase Estates feature open floor plans bathed in natural light from expansive windows. You won't sacrifice energy efficiency, however, thanks to major advances in window materials, heating and cooling systems, and even the way our homes are insulated and sealed. Virtually all of the new homes at Riverchase Estates are constructed to the ENERGY STARâ standards followed by our preferred builders and verified by third-party inspectors.
Elements that can make a real difference in Riverchase Estates home energy costs include tankless water heaters, high-performance Low-E 366 glass in the windows and highly efficient HVAC systems with tight duct systems. Windows and doors used by our preferred builders both save energy and reduce outside noise in comparison to those used in the past.
What do these advances in home construction mean for you? According to the 2006 International Energy Conservation Code, your new home will be as much as 40% more energy-efficient than one built just 15 years ago.
Buyers also will appreciate the convenience of a new technology called the Internet of Things, which allows users to automate and remotely control an array of smart-home appliances ranging from home security and thermostats to window blinds and cooking appliances. Our preferred builders will work with buyers to set up their smart-home hub and even coordinate pre-wiring of their new home so it is ready for high-speed internet, entertainment systems and an array of other technological needs.
Find out more
There's much more to share about the impressive features included in every home at Riverchase Estates. View the photos and videos included on our website and you will get a taste of the great designs and features offered in the new luxury homes that are being constructed here.
We invite you to visit Riverchase Estates and our preferred custom-home builders either in person or online, starting at riverchaseesteates.com. To schedule a tour, call 844-566-4300.