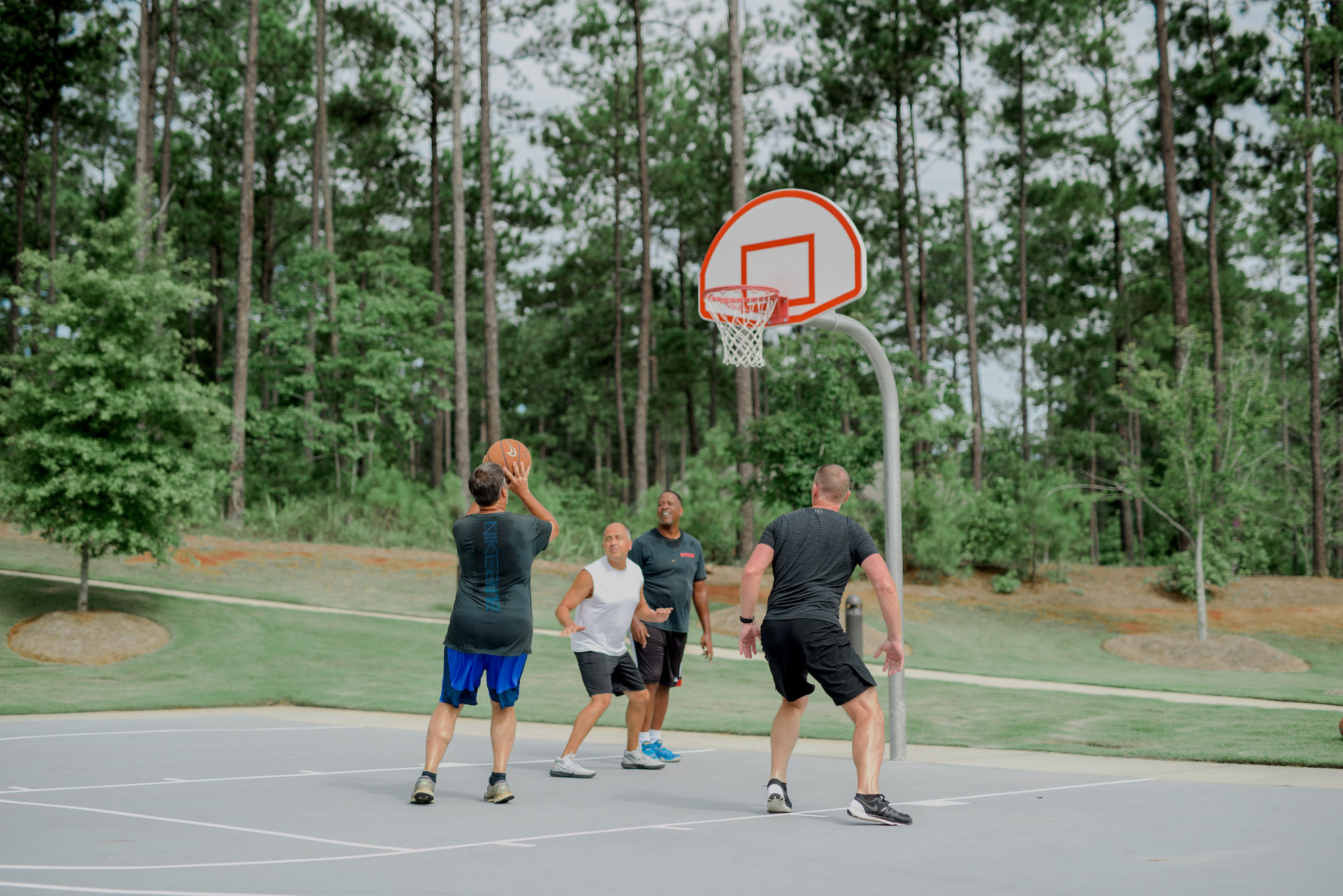 As Riverchase Estates grows with new homes and families being added each month, activities bringing neighbors together abound now with homeowners enjoying recreational experiences together and forming bonds and relationships while doing so. From pickleball and yoga to regularly scheduled basketball games, Riverchase Estates homeowners are an active group.
Pickleball is the most popular community activity. Each Saturday, players join for games held throughout the morning on the courts. Participation has grown each week, and now it is not unusual to have as many as ten to fifteen players for rotating games. In addition, one of the residents has led clinics for newer players to help them build skills and confidence in their games.
Saturday mornings also see a weekly basketball game starting at 10:00 am. What started as two-on-two early last spring is now a regular three-on-three game. This group of residents always have a lot of fun in addition to getting good exercise and working up a great sweat.
A group of Riverchase Estates residents meets each Saturday morning to practice Yoga. This group seems to grow each month and is consistent in their regimen. They also meet during the week in the early evening for Pilates and the opportunity to stretch, and exercise.
It should be no surprise that Riverchase Estates' fitness center attracts an array of regular workout enthusiasts. Residents have a full array of equipment to stay in shape including the center's treadmills, stationary bikes, and elliptical machines as well as an extensive set of weights.
Community trails and streets are also active with walkers each day. Riverchase Estates offers nearly four miles of wooded trails traversing the community and its 500-acre nature preserve. Residents of all ages love picnics, kayaking and canoeing, as well as the afternoon sunsets at Riverside Landing, where they can enjoy the nature preserve's rich flora and fauna.
Not surprisingly, the resort-style pool with its lap lanes, waterfall and extensive lounge areas is a popular spot during the summer. The pool and children's playground are popular spots for kids, while adults love the canopied lounge areas surrounding the pool, in addition to the gazebo and benches near the community pond and amphitheater.